Episode 07: "Stick"
"You can keep the sticks, you're gonna need 'em!"
Opening Credits
Ninjas.. not quite what I expected to start off the episode. This 'blind ninja' is stalking someone in a office building in Japan, and asks about "Black Sky". He finds out that it was taken to New York City.
(Tune in to the TV Soup Podcast - Daredevil, "Stick" & "Shadows in the Glass" Review) 
We don't know that the ninja is blind until after the middle-aged looking office guy has been decapitated. Cool way to unveil the character – and of course there are some parallels there to the other blind guy that we have gotten to know.. Matt Murdock.
Stick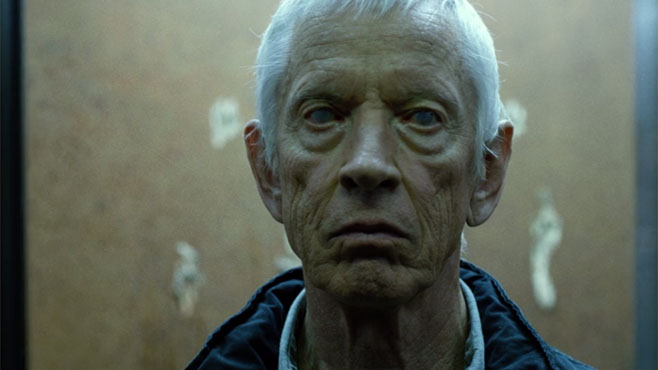 Matt wastes no time going after the next bad guy in line (Leland Owlsley), but ends up writhing on the floor of a parking garage after being tasered in the process of interrogating Owlsley. Turns out, he was distracted by the tapping sounds of a walking stick.. Stick reveals himself shortly afterward and wastes no time either, proceeding to mock Matt's unsuccessful altercation.
The relationship between Stick and Murdock is a rough one – Stick found him at a young age in an orphanage (the motivation behind which is still undetermined) and took him under his wing for training. It's obvious the amount of skill that Stick has in using his senses to 'see' the world around him much better than even a normal person can (demonstrated by describing the specific dairies and chemicals, etc contained within a single taste of ice cream).
It's great that Stick wants to train Matt and pass on these abilities, although Stick lets on early that he is being trained for a war that is yet to come. When Stick goes back to Matt's house with him, he further rails into Matt because he believes that one should not become 'soft'. Relationships, silk sheets and other material items will only lead to your death, he says.
After a physical confrontation with Stick that gives us some more glimpses into their relationship years ago, Matt agrees to help him find and destroy 'Black Sky' but only if killing is not a part of the plan.
Foggy & Karen
Back at the homestead, Foggy goes on a tirade about the "devil of Hell's Kitchen." Seems the public opinion of this man in a mask has turned sour very quickly, mostly due to Wilson Fisk's well-timed disaster-on-demand and the city's need for a scapegoat, blaming it on Daredevil.
Karen goes out once more to search for answers – this time to Elena's apartment – and when she leaves she is met head on by several thugs. The only way she survives is because Foggy had followed her and was able to put them out of commission with his softball bat. Looks like he's got a pretty good swing. Still, Karen is not happy about the situation – she would prefer to keep her secrets to herself. Like most people in this series, except for maybe Foggy. He seems like an open book.
We also find out that Karen has told Foggy all about her and Ben's investigation, much to Ben's chagrin. Karen insists that he is trustworthy, though, and it looks like Karen now has a whole team on her hands.
The Docks
Seems like most comic book series' find themselves at the docks from time to time. I mean I get it, people are always shipping the darndest things. In this case, we find out that Black Sky.. 'bringer of shadows' as referred to earlier, is really a boy. At one point, Stick takes aim at the kid with a bow but Matt notices his actions and is able to deflect the arrow before it gets to its intended target. Daredevil also gets a new weapon, a pair of wooden batons that Stick gives to him.
Surprise, surprise – Stick reveals later at Matt's house that he had already killed Black Sky and that it wasn't a child, but a weapon. Unrelenting in his belief that killing is never necessary, Matt attacks Stick and this time is able to take him down convincingly – perhaps for the first time in their history. Although Matt is furious, Stick is actually pleased that Matt is finally able to defeat him.
We are not specifically introduced to the character that is revealed at the end of this episode, but we know that he is a well-built, heavily scarred man that is familiar with Stick and with Matt. He asks Stick if Matt will be ready, and received the foreboding response, "I don't know".
Episode 08: "Shadows in the Glass"
All About That Fisk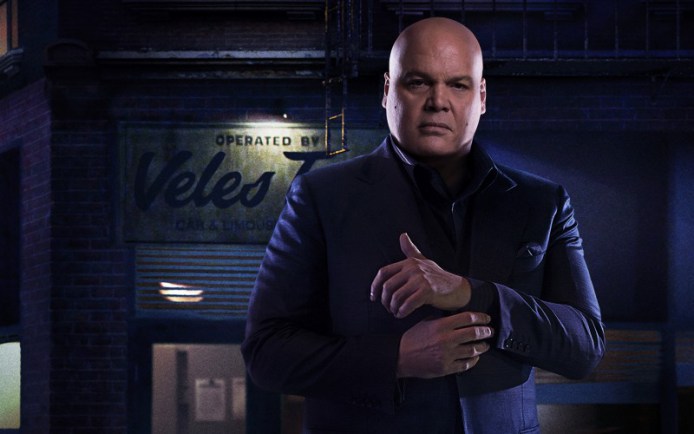 Every good superhero show is made so not only because of the merits of the hero, but also because of the villain. How awesome is he, and how believable his backstory? In this case, Fisk has been built up to be a larger than life character and all of this violence and insecurity that has so far been revealed requires an explanation.
A visually and emotionally grueling episode, we're taken through Fisk's childhood with an abusive father and all that goes with it. Strangely, this episode comes across as much quieter than the previous ones - even though it ultimately ends with death and the disposal of a body in the river.
The routine that Fisk has for himself every morning – making the same omelette, picking out the same cufflinks, etc is a way for him to make sure that he is in control. Absolute control, over every single thing that occurs around him. He has demonstrated an extreme rage when presented with things that were not a part of the plan.
The one exception to this may be his infatuation with Vanessa. When originally at the art gallery, Fisk was drawn to one painting in particular, entitled 'Rabbit in a Snowstorm'. When we first discussed this, we thought it may be the chaotic patterns, or a number of other things that attracted him to it – but it turns out that this visceral reaction that he experiences when taking in the painting can be directly attributed to his childhood. In fact, 'Rabbit in a Snowstorm' looks very much like the plastered design of the wall from his house as a child. The one that he was forced to sit in front of and stare at while in the background his father savagely beat his mother. The one that he stared at while building up the courage to stand up and put an end to that beating, permanently.
Vanessa Marianna
It's all a little suspicious, isn't it, that Vanessa has stuck it out this far into a relationship with someone that can kindly be called 'troubled'? I suppose she herself may have an equally sordid past and thus be able to deal with Fisk much better than normal people.. on par with someone like James Wesley, for example. If that's the case, though, she has not yet revealed any of that to us.
Yes, I assume that there is more underneath the exterior there, because there always is (except maybe with Foggy) but it seems like Vanessa has had an extremely large impact on Wilson Fisk in a very short amount of time. She has taken him from an unstable dinner date to shattering his normal routine and joining him for breakfast. He is even letting her pick out his clothes (and cufflinks!).
A bit of a breakthrough for Fisk, it seems, after letting the worst of himself and his past out into the light. In doing so, he reclaims his name and sets to become more of a public personality – which just so happens to shatter the expose that Matt has urged Ben to write for the paper. The one that he almost submits right before seeing the live footage of Fisk's speech on his computer screen.
Vanessa is certainly guiding Fisk at this point. Whether or not that is for her own nefarious purposes, I suppose we will find out in the episodes yet to come! I will be watching the rest of the season's episodes with rapt attention.