Welcome back to the Rookie Report! For most of you, this is the final week of the fantasy regular season. Your whole season could be riding on the outcome of this week's matchup. Make sure you know what your scenario looks like. Do you need to win and make up a point differential? Do you need to just win? If you're out of the playoffs, are there any side pots you can win this week? If you are in a dire spot, look for ceiling instead of floor. I'll do my best to point out who has more of which in the breakdowns below. If you see two players at the same position listed under the same header, the player I like more this week will be listed first. Let's dive in to what to expect from the rookies in week 13…
Rookies to Start: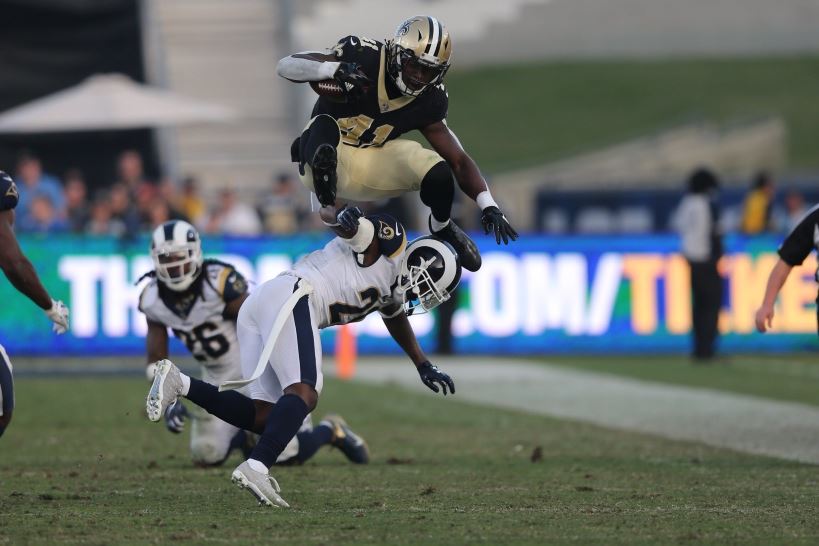 RB Alvin Kamara, NO (Wk. 13: vs. Car.): To put it as simply as I can, you can't sit a guy who has been the RB1 in 3 of the last 4 games (and the RB4 in the other). The matchup this week isn't an easy one, but Kamara has been on a crazy run. Carolina allows the 4th-fewest RB points per game, and rank 5th in Football Outsiders' run defense DVOA stat. Given the matchup, I'd probably fade Alvin in DFS lineups, or view him as more of a contrarian play, but you have to trust him in season-long leagues. In the past 4 weeks, Kamara has scored an astonishing 43 more PPR points than any other running back, and he's done it with fewer than 15 touches per game.
RB Leonard Fournette, JAX (Wk. 13: vs. Ind.): Fournette was a disappointment in week 12, as he handled a season-low 12 carries and posted fewer than 8 PPR points, but unless the ankle is an issue I'd expect both the carries and the points to go up this week. The Jaguars played from behind last week, but they're 9.5-point favorites in this one and the Colts allow the 6th-most RB points per game. There is a little worry since Fournette has posted 2 down games in 3 chances since returning from the ankle issue, but he's practicing in full as of Wednesday and looks like he should be back to normal this week. I'd understand if you were hesitant to pull the trigger in DFS with his recent results and the price tag, but he should be at least a borderline RB1 in season-long leagues.
RB Jamaal Williams, GB (Wk. 13: vs. TB): As long as Williams has the backfield to himself, he's a strong RB2 option and a huge value in DFS lineups. He was the RB2 last Sunday against a stout Steeler defense, and even managed to finish in the top-20 backs the week before when Green Bay was shut out by Baltimore. Williams has consistently been able to produce when given the opportunity, and he should have plenty of opportunity in this one as long as Aaron Jones and Ty Montgomery remain sidelined. Tampa Bay allows the 14th most RB points per game, and ranks 20th in run defense DVOA.
RB Christian McCaffrey, CAR (Wk. 13: @NO): McCaffrey didn't have a great game against the Jets last week. He was held to a season-low 2 catches, but still managed to finish as the RB22 in a tough matchup. He basically has a top-25 floor at this point. The Saints allow the 9th-most RB receptions and 7th-most RB receiving yards, and McCaffrey finished as the RB10 with 20.7 PPR points in his first go-round with New Orleans in week 3. That was before he started to consistently produce on the ground. CMC totaled just 117 rushing yards in the first 8 games of the year (70 in games 2-8), but has managed to tally 151 yards on the ground in Carolina's past 3 contests. That balance has made McCaffrey an even safer RB2 option.
RB Samaje Perine, WAS (Wk. 13: @Dal.): Perine has now posted back-to-back 100-yard rushing games for Washington, and he had 4 targets last week that led to a 3-30 receiving line as well. The receiving production is new here. Perine is known as a non-factor in the passing game, so the new usage boosts both his ceiling and his floor. This week he gets to face a Dallas defensive front that is still without Sean Lee, allows the 12th-most RB points per game, and ranks 28th in run defense DVOA. The receiving work might not carry over as Byron Marshall gets more up to speed as the receiving back, but Perine remains a strong RB2 option this week. Think Alex Collins on a team that actually scores offensive touchdowns. (Washington has scored 10 more offensive TDs than Baltimore).
WR Cooper Kupp, LAR (Wk. 13: @Ari.): Kupp saw a whopping 11 targets last week, and he should approach that number again this week with Patrick Peterson likely to shadow Sammy Watkins for much of the day. The Cardinals allow the 9th-most points per game to WRs despite stellar coverage from Peterson. Kupp posted 4-51-1 in the first meeting with Arizona when Robert Woods was healthy and in the lineup. Woods is going to miss this one. Cooper should be worth his price in DFS cash games and is a solid WR3 this week.
Borderline Rookies:
QB Mitch Trubisky, CHI (Wk. 13: vs. SF): Before you freak out about Trubisky being listed here, let me explain that this is for 2-QB leagues (or crazy leagues with 16+ teams). Trubisky had been showing signs of improvement before taking a big step back against the Eagles last week. I'm willing to chalk it up as a down week in a brutal matchup. The matchups don't get better than the one he has this week. The 49ers have allowed the most QB points in the league and have coughed up multiple passing TDs in 6 straight games. Mitchy T was the QB14 and QB18 in the games before being eviscerated by Philly. He has some solid upside this week and is a decent play in DFS lineups as well.
RB Kareem Hunt, KC (Wk. 13: @NYJ): Hunt has been struggling for a little while now, but last week was especially bad. For the first time all year he was held under 60 scrimmage yards, and it was way under (26). He gets a brutal matchup this week with the Jets allowing fewer than 16 RB points per game over their past 5 games. To explain how good that is, the Vikings are the best RB defense in the league with 17.3 points per game allowed. There is still some upside. The Jets do rank just 17th in run defense DVOA for the year, and Hunt still has the backfield touches mostly to himself, but the QB and coaching staff aren't helping. Defenses have been stacking the box, and Alex Smith isn't beating them downfield to keep them honest. I'd still lean toward starting him if I have him, but would understand if you didn't. I don't know if I'd have the stones to sit him for Perine or Jamaal Williams, but the matchups and recent production suggest you should. Hunt would make a great contrarian play in DFS tournaments if you had any faith a bounce-back was coming. No one will be on him this week in DFS.
RB Joe Mixon, CIN (Wk. 13: vs. Pit.): I'm not quite ready to buy into last week's breakout game from Mixon as the new normal for him, but it was very promising to see. Mixon punished the Browns consistently all game, piling up 114 yards on the ground without the benefit of any 20+ yard carries. He gets a much stiffer test this week. The Steelers may have been carved up by Jamaal Williams on Sunday night, but it was the first time they've allowed the opposing backs to total 20 PPR points or more since week 5. Pittsburgh ranks 6th in run defense DVOA and has allowed the 9th-fewest RB points per game on the year. Mixon himself failed to reach 10 points in Cincy's first meeting with the Steelers. The volume should still be there for Mixon this week, which keeps him in the RB2/flex discussion, but I doubt the ceiling that he showed last week will repeat itself on Monday night. Joe's back to being a floor option in this one.
WR Zay Jones, BUF (Wk. 13: vs. NE): The Patriots have managed to cut down on how many points they've been giving up to opposing teams after an atrocious first 4 games (32 ppg allowed first 4 weeks, 13 ppg since), but they've continued to bleed fantasy points to WRs. Miami was the first opponent they've faced all year that didn't reach 32 PPR points from their WR group. Zay is the clear WR1 for the Bills with Kelvin Benjamin sidelined, as evidenced by the 24 targets he's seen in the past 3 weeks. The bouts of inefficiency he dealt with early in the year crept back in last Sunday against KC as he caught just 3 of 10 targets, but he also found the end zone in that game. He's posted his 3 best fantasy games of the year in his last 3 played, and his target share should be strong again in a great matchup. He's an excellent cheap DFS option and a solid flex option in deeper PPR leagues.
WR Corey Davis, TEN (Wk. 13: vs. Hou.): Davis's play and stat lines have been disappointing so far, but I'm still holding out hope for him this week. 4 of the 6 games that Davis has suited up for have been against teams that rank in the top-5 in the league at limiting WR points. In the other 2 games, he's averaged 7 targets, 5 catches and 54 yards. The Texans allow the 6th-most WR points per game and rank outside of the top-20 in pass defense DVOA on throws to any WR. Literally…Football Outsiders tracks DVOA on throws to WR1s, WR2s, and other WRs, and the Texans rank outside of the top-20 in all 3 categories. With Rishard Matthews possibly out again, this is a second chance for Davis to post his breakout game. I would treat last week's production as his floor against Houston, and hope that he moves closer to his ceiling this week.
WR Dede Westbrook, JAX (Wk. 13: vs. Ind.): The Colts allow the 8th-most WR points per game, and Dede has seen 16 targets in his first 2 games of the year, including 10 in week 12. Some of that target share was likely due to Marqise Lee getting the Patrick Peterson treatment, and Dede was still out-snapped by Keelan Cole in that game, but I expect the target share to remain solid moving forward. The Colts have been bad against the pass all year, and their secondary will be without its lone bright spot Rashaan Melvin in this one. Westbrook is a big-time value at his $4,100 DraftKings price tag, and he's an intriguing borderline flex option for season-long leagues.
WR JuJu Smith-Schuster, PIT (Wk. 13: @Cin.): JuJu looks like a game-time decision this week, and if he does suit up he'll get a tough matchup and may see limited snaps. The Bengals have allowed the 2nd-fewest WR points per game in the league and rank #11 in pass defense DVOA on throws to #2 WRs. For reference, Smith-Schuster put up 2-39-1 in the first meeting between these teams, but that was before he'd overtaken Martavis on the depth chart. The upside that JuJu showed before his injury keeps him in the flex conversation if he's able to play, but I'd be hard-pressed to plug him into lineups this week. Big Ben's normal home/road splits seemed to be a thing of the past early on this year, but when you crunch the numbers they still show up. Ben is averaging 13.75 fantasy points per game on the road, and 19.26 points per game at home, and that's even with the 2.6 he tallied at home against the Jaguars factored in. Ben's poor play on the road should temper expectations across the entire Steelers' passing attack despite how hot they've been of late.
TE Evan Engram, NYG (Wk. 13: @Oak.): Coming off 2 consecutive poor outings, Engram now gets a quarterback change to contend with. The targets have still been there for Evan (13 in the last 2 weeks), and the matchup is a good one (Oakland allows the 7th-most TE points), but I wouldn't fault you if you went with a more stable option like Kyle Rudolph or Jack Doyle instead. Engram is likely still your best option, but there are definitely some reasons for concern with the Eli Manning era over, and his price tag in DFS is certainly too rich for me.
TE David Njoku, CLE (Wk. 13: @LAC): The matchup is daunting on paper for Njoku (Chargers allow 2nd-fewest TE points), and he hasn't exactly been a key fantasy contributor so far, but the return of Josh Gordon to pair with Corey Coleman could really open things up in the middle for Njoku. He saw his biggest playing time share of the season last week, out-snapping Seth DeValve 41-24, and posted a season-high 4 catches for 47 yards. If the increased playing time continues this week, he's on the radar as a tight end streamer for deeper leagues.
Rookies to Sit:
QB DeShone Kizer, CLE (Wk. 13: @LAC): Kizer has quietly been stringing some pretty solid fantasy performances together over the past couple weeks, but this matchup isn't one to target. The Chargers allow the 3rd-fewest QB points per game, and have kept 4 of the past 6 QBs they've faced out of the top-25 weekly finishers, including a QB31 performance from Dak Prescott on Thanksgiving. The return of Josh Gordon should make the Browns' offense more dynamic, and week 14 against the Pack should be a prime spot to stream Kizer in 2-QB leagues, but I'd still avoid him this week.
RB Wayne Gallman, NYG (Wk. 13: @Oak.): Gallman saw a surprisingly high amount of work on Thanksgiving, but the Giants' offense is going to be unpredictable with Geno Smith under center, and the 6.3 PPR points Gallman scored on Thanksgiving were the most he's tallied since week 5. It's hard to rely on any more than that with this offense in flux, especially if your season is on the line.
RB Corey Clement, PHI (Wk. 13: @Sea.): The Eagles did win in a rout for the 4th consecutive game last Sunday, but Clement's garbage time bonanza came to an end. Week 12 marked the first time during the streak that Clement failed to rush for 50 yards, and he played on just 18% of the offensive snaps. This week's game should be a much closer contest. I'd expect the Eagles to rely more on LeGarrette Blount and Jay Ajayi to carry the load than they have in recent weeks, making Clement's volume too shaky to trust as anything more than a DFS tournament dart throw.
RB Marlon Mack, IND (Wk. 13: @Jax.): Mack handled the fewest touches he's seen since week 6 on Sunday as the Colts came out of their bye. He posted 10.6 PPR points in the Colts' previous meeting with Jacksonville, but nothing in his recent performance suggests a repeat is coming. Gore has re-established himself as the clear lead back in Indy over the past few weeks, and Mack is best left seated for now.
RB Matt Breida, SF (Wk. 13: @Chi.): Breida played just 7 snaps and handled 2 touches against Seattle last week. Carlos Hyde has taken a stranglehold on the lead back job in San Francisco. The only way Breida sees extended work this week is if the 49ers manage to build a comfortable lead or Hyde gets hurt. Neither scenario is something to bank on.
WR Taywan Taylor, TEN (Wk. 13: @Chi.): There is some upside here as a DFS punt option if Rishard Matthews misses another game since the Texans are so bad against WRs, but with Matthews sidelined in week 12 Taylor ran just 7 pass routes. The Titans don't employ enough 3-WR sets to give Taywan the upside you'd need to be able to consider him in season-long leagues.
WR Chad Williams, ARI (Wk. 13: vs. LAR): Williams didn't show enough or see enough targets in his debut to warrant consideration in an only slightly easier matchup this week. The Rams allow the 8th-fewest WR points per game. The floor is too low to take the risk here in any format.
TE OJ Howard, TB (Wk. 13: @GB): With the news that Jameis Winston will be back for this game, I'd be hesitant to trust OJ Howard if I need a win this week. Green Bay allows the fewest TE points per game and has only allowed 1 TD to the position all year, and Jameis tends to favor Cameron Brate much more than Ryan Fitzpatrick does. With Fitz at QB, Howard has been featured more prominently in the offense than Brate. OJ has 4 games all year with more than 50 receiving yards, and 2 of them have come in the 3 games that Fitzpatrick started. If you need to make up points this week, there are few streaming TEs with more upside than Howard, but there is a considerable downside this week as well.
TE George Kittle, SF (Wk. 13: @Chi.): The Bears are just a middling defense when it comes to stopping TEs, and the QB change could spark Kittle, but he has just 7 catches for 79 yards total in the past 4 games with his college QB throwing him the ball. I'm not optimistic he suddenly starts producing now that he gets a QB he's less familiar with.
TE Adam Shaheen, CHI (Wk. 13: vs. SF): With Dion Sims back in the lineup last Sunday, Shaheen played just 17 offensive snaps and was targeted just once in a game where the Bears threw 33 passes. There isn't enough usage to consider him with Sims healthy.
Deep League Sleepers, Stashes, and Cheap DFS Options:
QB Patrick Mahomes, KC (Wk. 13: @NYJ): Mahomes hasn't played at all so far this year and isn't slated to start this week, but he's still worth a stash in 2-QB leagues. If the Chiefs fall flat again this week and drop to 6-6 with their 5th consecutive loss, they'll have to do something drastic to try and turn it around. Alex Smith has turned back into the dinking and dunking QB he's been for years as the offense has fallen apart. Mahomes could be the spark they need. He showed throughout his college career that he isn't afraid to push the ball downfield, and he has the weapons for a breakout if he gets the chance in Tyreek Hill, Travis Kelce and Kareem Hunt. The Chiefs face Oakland and Miami in the fantasy playoffs. They both rank in the bottom-10 in the league at limiting QB points. Mahomes is a much better stash than Giants' rookie Davis Webb even though it's already been confirmed by the Giants that Webb will play at some point. The ceiling is much higher for Mahomes.
RB Austin Ekeler, LAC (Wk. 13: vs. Cle.): Ekeler has been a big factor in fantasy when games get out of hand for the Chargers, and LA is a 2-touchdown favorite this week. The Browns have allowed 28 or more PPR points to opposing RBs in 3 of their past 4 games, and Ekeler has scored 10+ in 4 of 5 and has 58 or more scrimmage yards in each of the past 3. He makes for a decent PPR flex option in deeper leagues, and is a solid bet for another double-digit performance.
RB Tarik Cohen, CHI (Wk. 13: vs. SF): Cohen's weekly usage remains an enigma, but he's worth a dart throw in DFS tournaments this week. The 49ers allow the most RB points per game and nearly half of the points they allow to the position have been receiving points. They've allowed the most RB receiving yards by a 77-yard margin over 2nd (New England), and have allowed the 2nd-most RB receiving TDs. Despite the ups and downs Cohen has had this year, he's still the PPR RB24 for the season and gets the best matchup possible this week.
RB Chris Carson, SEA (Wk. 13: vs. Phi.): Like Mahomes, Carson isn't expected to play this week, but is an intriguing stash for the fantasy playoffs. No one has taken the reigns in the Seattle backfield since Carson went on IR, and he's expected to start practicing again this week. Carson still leads the Seattle RBs in rushing yards for the year despite playing in just 4 games. The Seahawks face the Rams and Cowboys in weeks 15 & 16 (they currently allow the 2nd-most and 12th-most RB points per game respectively). Don't waste the roster spot if you aren't in solid playoff position yet, but if you are, you could be getting a fresh starting RB for fantasy's most critical weeks.
WR Josh Reynolds, LAR (Wk. 13: @Ari.): With Patrick Peterson matched up on Sammy Watkins and Robert Woods out again, this could be a great spot for Reynolds to have a breakthrough game. He was solid last week with 4-37-1 on 6 targets on a surprising 61 snaps (the same number of snaps Cooper Kupp played). Watkins was targeted 9 times in that game, and Kupp was targeted 11 times. I don't see much room for Kupp's number to increase, and I expect the number of Sammy targets to come down thanks to P-squared. No QB throws fewer passes into tight windows than Jared Goff. Per NFL.com, he's thrown just 12.2% of his passes this year to WRs with less than a yard of separation, the lowest rate of any qualified QB. Patrick Peterson will create tight windows for Sammy. I've liked Reynolds since he was drafted, and this is a great spot for him to shine. He's could be a week-winning DFS tournament play.
WR Kenny Golladay, DET (Wk. 13: @Bal.): Although Marvin Jones is the one garnering the attention lately, Golladay has quietly put together 3 straight games with 50+ yards while seeing his snap count increase from 11 to 35 to 40 as he's worked his way back from injury. He's almost pushed TJ Jones completely out of the lineup. The Ravens are a tough matchup, but at $3,900, he's a reasonable dart throw for DFS tournaments, and could even make for a reasonable flex option in deeper non-PPR leagues.
WR Travis Taylor, SF (Wk. 13: @Chi.): Taylor played two-thirds of the team's offensive snaps in his first game back from injury, and Jimmy Garoppolo showed a penchant for leaning on his possession receivers in his starts for New England last season. In his 2 career starts, 20 of his 42 completions went to either Danny Amendola or Julian Edelman, and 2 of his 4 TDs went to Amendola. The Bears rank 25th in pass defense DVOA on throws to the WR3 or lower and Taylor costs the minimum in DraftKings. There's a non-zero chance that Jimmy G leans on easy completions to Taylor to move the sticks, and that gives Taylor some upside in DFS tournaments.
TE Ricky Seals-Jones, ARI (Wk. 13: vs. LAR): There still isn't enough track record to tell you to start him in season-long leagues, but Gabbert clearly likes him. He's only played 25 snaps in the last 2 weeks, and he's managed to post 7-126-3 on 11 targets. The Rams allow just the 6th-fewest TE points per game, but with the target share he's seeing from Gabbert, he's worth consideration in DFS tournaments despite the matchup.
That's all I've got for this week. Hopefully it helps you make the lineup decisions that secure your much needed playoff berth or 1st round bye. Make sure to stay on top of the injury updates throughout the week, and always check in before kickoff to make sure there are no surprise inactives. If you have any specific questions, or if you just want to yell at me about any of the information included above, feel free to hit me up on twitter (@Shawn_Foss). As always: Good luck, trust your gut, and have fun. It's just a game.