Welcome back to the Rookie Report! It's been a long offseason, but we're finally ready to rock and roll with the regular season kickoff tonight! As usual, I'll be back every week this season to give you the rundown of what to do with the fantasy rookies in your life. There are plenty of rookies to keep an eye on that could help you win each week. This year looks like it could be a big one for rookie running backs, with 2 of them picked in the draft's top-10 picks for the first time since 2005, when Ronnie Brown, Cadillac Williams and Cedric Benson all went in the top-5. Several of the non-1st rounders should play significant roles as well, as Dalvin Cook and Kareem Hunt already have earned their team's starting jobs. Rookie WRs were also a priority in the '17 draft, with 3 of them selected in the top-10 for the first time since '05. Unfortunately, two of those top 3 WRs this year are going to miss week one, and the other might not be 100%. At any rate, the rookie crop is inevitably going to play a big role in your fantasy season at some point. They always do. The hard part is figuring out when. Without any sort of track record of success, the rookies are always the hardest to project, but I'll be taking a stab at it each week.
Week one is always the hardest to figure out, so the best strategy in season-long leagues is usually to exercise some caution. With no bye weeks (save Miami & Tampa Bay), week 1 is usually the time to start your studs that you drafted early, not take a shot on a late round rookie who impressed you in the preseason. There's DFS tournaments for that. With that in mind, there won't be too many players that I recommend as starters this week, but there will be a few that I mention as DFS sleepers. One word of caution I want to throw in…I did use some team defensive stats from last year to make the case for a good or poor matchup for a couple of players listed here. Those numbers have meaning, but shouldn't be treated as automatic that they will repeat that performance this year. I mostly used them because we don't have a lot else to go on to determine matchup quality. If you see any fantasy points allowed numbers, they are based on ESPN standard scoring, and any DFS price tags will be from DraftKings. Alright, that's enough housekeeping for this week, let's dive in…
Rookies to Start:
RB Dalvin Cook, MIN (Wk. 1: vs. NO): Cook is the unquestioned lead back in Minnesota, and he gets to face a Saints defense that coughed up the 3rd-most running back fantasy points last year. New Orleans has made some improvements to their defense with Marshon Lattimore, Manti Te'o and AJ Klein, but they still have a long way to go. The Vikings enter the game as a 3.5-point favorite, so they should be able to lean on the run a bit, and Cook will also be vital in the passing game. Bradford targeted the running backs more than 100 times last year, and Cook posted nearly 500 receiving yards as a junior at Florida State last year (488). Cook should be an RB2 easily this week and has upside for more.
RB Leonard Fournette, JAX (Wk. 1: @Hou): It could be tough sledding for Fournette against a Texans defense that ranked 12th vs running backs last year and now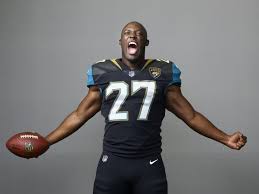 has a healthy JJ Watt, but the Jaguars have made it no secret that this offense will revolve around Fournette. I'd be surprised if he touches the ball fewer than 20 times this week, and that volume alone should make him an RB2. If you went heavy at running back and have 2 studs to start over him, go ahead, but odds are you took Fournette as a starter. You should use him as such this week.
Borderline Rookies:
RB Kareem Hunt, KC (Wk. 1: @NE): Hunt rolls into week 1 as the Chiefs starting running back, but he gets a tough matchup on opening night. The Patriots allowed the 8th fewest RB fantasy points a year ago, and the game script should have KC throwing late as a 9.5-point underdog. Hunt's season-long outlook is bright, but he might not shine as bright week 1. In 18 years as a head coach, Andy Reid has had a running back clear 1,200 scrimmage yards in 13 of them, clear 1,500 yards in 5 of them, and clear 1,900 in 3 of them. He knows how to scheme the ball to RBs. The tough week one matchup should make him a low-end RB2 or flex option, but there are better weeks ahead.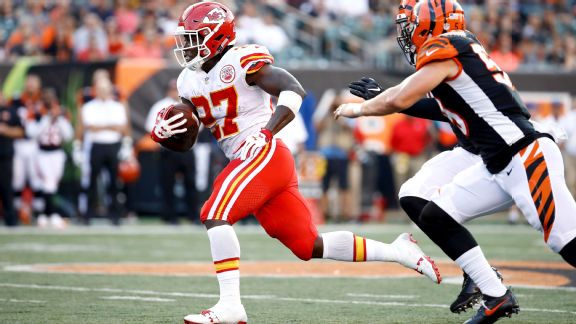 RB Christian McCaffrey, CAR (Wk. 1: @SF): I'm not sure I fully buy into the hype on Christian McCaffrey. I'm convinced he's an explosive athlete who will be fun to watch…I'm just not sure what his usage will look like this year. He's been talked up as if he will be a focal point of the offense, but that would run counter to how the Panthers' offense has operated under Cam Newton. In his 6 seasons in Carolina, only one RB has reached 30 receptions in a season (D'Angelo Williams in Cam's rookie year). I still expect Jonathan Stewart to be a factor on early downs and at the goal line, so McCaffrey needs to have the receiving usage to live up to the hype and be worth his draft price. The Panthers have claimed that this will be a totally different offense, but I need to see it to believe it. Luckily for McCaffrey, this week is as good as any for them to prove me wrong. The 49ers young defense should be improved, but they were easily the worst unit against RBs in the NFL last year. If the Panthers do utilize McCaffrey, I don't think SF will be up to the challenge of slowing him down. He's a boom-or-bust RB2/flex option this week.
WR Zay Jones, BUF (Wk. 1: vs. NYJ): Jones should be the Bills de-facto WR1 this week with Jordan Matthews battling back from a sternum injury and Anquan Boldin retired. The game plan should be run-heavy with the Bills a 9-point favorite, but I still think Zay has a better than 50/50 shot to catch 5+ balls. He did catch 158 balls last year at ECU, so 5 should be manageable against the hapless Jets. He's an intriguing option in deeper PPR leagues this week.
WR Cooper Kupp, LAR (Wk. 1: vs. Ind.): Kupp's outlook is similar to Zay, but he has Sammy Watkins ahead of him on the depth chart. The Rams will pound the rock much like Buffalo, but Kupp has shown a great connection with Jared Goff so far and should be involved. I said I like Zay for 5+ catches, but I like Kupp for 5+ targets. If Goff struggles to connect with Watkins, it could mean extra looks for Kupp.
WR Corey Davis, TEN (Wk. 1: vs. Oak.): Davis is likely going to be limited in the opener after playing exactly zero preseason snaps, but he was listed as a starter on the Titans' depth chart ahead of Sunday's tilt with the Raiders. I would probably consider Davis more of a deep league sleeper for this week, but it would feel weird to call the draft's #5 pick a sleeper in his first game. While Delanie Walker is probably the best fantasy play of any Titan pass catcher this week, I think it's very possible that Mularkey gives Davis more run than expected. 60+ yards and a TD aren't out of the question for the WMU product's debut.
TE Evan Engram, NYG (Wk. 1: @Dal.): Rookie TEs rarely produce in fantasy football, but Evan Engram has a chance to be the exception to that rule. Giants beat reporter Jordan Ranaan expects him to play 60%+ of the snaps this year, and he's a matchup nightmare as more of a WR/TE hybrid. He could get off to a fast start facing a Cowboys defense that allowed the most catches and yards to TEs in the NFL a year ago. There's also a chance that Odell Beckham misses this game, which would certainly increase how much opportunity Engram sees. He's a cheap DFS option at just $2,900 on DraftKings, and he's an intriguing low-end starting option in deep leagues.
Rookies to Sit:
QB DeShone Kizer, CLE (Wk. 1: vs. Pit.): The Steelers are not an ideal opponent to face in your first NFL start. The average point total for a top-12 weekly fantasy QB last season was 21.5. The Steelers didn't allow that many in a game all season. The most they allowed was 21.0 to Carson Wentz early in the year. There will be good weeks for Kizer this season, but I don't like the chances that this is one of them. He's probably left benched even in 2QB leagues.
RB Joe Mixon, CIN (Wk. 1: vs. Bal.): I like Mixon's season-long outlook, but week 1 looks dicey for him. The Bengals have stubbornly kept Jeremy Hill atop the depth chart, and the Ravens' run defense is typically solid. While I doubt Hill keeps the job for long, he'll limit Mixon's opportunity as long as he does. I would expect only 10-12 touches for Mixon this week, which just isn't enough to trust him in most leagues.
RB Alvin Kamara, NO (Wk. 1: @Mia.): You have to take a wait-and-see approach with Kamara. He could have a significant passing game role as Pierre Thomas and Travaris Cadet have had in New Orleans in the past, but I have no clue how much he will play with Mark Ingram and Adrian Peterson around. Ingram has openly talked about working to improve as a receiver, so it's best to give this a week to get a better idea of how the usage will shake out.
RB Jamaal Williams, GB (Wk. 1: vs. Sea.): Williams remains behind Ty Montgomery on the depth chart. He's listed as the number 2 back, and Montgomery has a career-high of just 16 carries in a game, so Williams should at least see some work, but probably not enough to be a fantasy factor. It doesn't help that the matchup isn't a good one. The Seahawks added Sheldon Richardson to a defense that allowed the 3rd-fewest RB fantasy points last year.
RB Marlon Mack, IND (Wk. 1: vs. Atl.): If Mack gets the 3rd down work for Indy, the game script might actually work in his favor this week. The Colts are a 3.5-point underdog. There is, however, no guarantee that he gets the 3rd down work. Frank Gore just refuses to go quietly into the night. The Matt Jones signing also muddies the backup picture behind Gore a little bit, and Scott Tolzien will be starting at QB this week. This is a situation to avoid.
RB Semaje Perine, WAS (Wk. 1: vs. Phi.): For now, the Washington starting job belongs to Rob Kelley with Chris Thompson handling the passing down work. Perine might have value later in the season, but he is going to have to earn a role.
WR Taywan Taylor, TEN (Wk. 1: vs. Oak.): The return of Corey Davis for week 1 saps a lot of upside that Taywan might have had for the opener. He may play some snaps spelling Davis and Eric Decker, who also battled injury in the latter part of the training camp, but I don't expect him to play enough to warrant fantasy consideration this week despite his strong preseason.
WR Dede Westbrook, JAX (Wk. 1: @Hou.): Dede surprisingly passed Allen Hurns on the Jaguars depth chart and earned a starting spot with a strong camp, but I'd expect a run-heavy game plan and the majority of the passing targets peppered to Allen Robinson and Marquise Lee. There likely won't be enough passing volume left over to make Westbrook a viable play. In 3 career starts in Houston, Blake Bortles has averaged just 149 passing yards per start, and is coming off an abysmal preseason.
WR Kenny Golladay, DET (Wk. 1: vs. Ari.): Fantasy players were excited for Golladay after his 2-TD preseason debut, but he hasn't done a whole lot since then. It was reported this week that he will split the WR3 role with TJ Jones, at least to open the season. The Lions will continue to play their keep-away style of offense which will sap some of the passing volume, and Golladay currently sits behind Golden Tate, Marvin Jones, Theo Riddick, Ameer Abdullah, and Eric Ebron in line for targets. He'll have some good weeks later this season, but week 1 isn't the time to play him.
WR Curtis Samuel, CAR (Wk. 1: @SF): Samuel may be involved at least a little this week, but he's basically the 6th guy in line for touches behind KB, Olsen, McCaffrey, Funchess, and Jonathan Stewart. I wouldn't expect much this week.
TE David Njoku, CLE (Wk. 1: vs. Pit.): Njoku was limited for much of the preseason, and will likely need a few weeks to get his legs under him. Rookie TEs are notorious for not producing much in fantasy, so I'd be hard pressed to trust a guy who caught 4 passes in the preseason as a starter in week 1. If he has any productive weeks this year, they will likely come later in the season.
TE George Kittle, SF (Wk. 1: vs. Car.): Kittle has been a camp surprise in San Francisco. He's played well enough that the 49ers traded away Vance McDonald and named him the starter. Unfortunately, he's battling a hamstring injury that he aggravated at practice on Wednesday. If he does play, I'd expect him to share a lot of snaps with Logan Paulsen and Garrett Celek, which will make Kittle irrelevant for fantasy purposes this week.
Deep League Sleepers and Cheap DFS Options:
RB Chris Carson, SEA (Wk. 1: @GB): Thomas Rawls is listed as questionable for Sunday's game with the Packers, and with Rawls out in the team's 3rd preseason game (the dress rehearsal for the regular season), Carson split first team work with Eddie Lacy. If Rawls sits the opener, there is a non-zero chance that Carson develops the hot hand and sees a much larger chunk of the work than Lacy, and Green Bay was inconsistent against the run last year. I'm not saying it's a huge chance, but Carson will cost the minimum in DraftKings. If Rawls plays, this is a moot point. The backfield situation will be too crowded to roll the dice on Carson in that scenario.
RB Tarik Cohen, CHI (Wk. 1: vs. Atl.): Like Carson, Cohen is a cheap DFS punt play in GPP tournaments. Most fantasy players have come into the season assuming Jordan Howard will have a 3-down role, and he was drafted as a top-8 RB. There are plenty of red flags though. Before last season, he never really displayed any receiving chops, and he posted just a 58% catch rate as a rookie. The Bears are expected to play from behind a lot this year, with Vegas odds putting their win total at 5.5, and local beat writers expect Cohen to have a role right out of the gate. If Howard cedes some passing down work to the quicker, shiftier Cohen, it could put a damper on his season. It could also result in some nice weeks for Cohen. The week 1 matchup for Cohen is juicy. The Falcons allowed a league high 141 targets and 109 receptions to opposing RBs. Cohen has looked explosive this preseason, and will cost just the minimum on DraftKings ($3,000). There is also a chance that it's Benny Cunningham who takes that passing work, so he's also an intriguing option at $3,600 in DK.
WR ArDarius Stewart, NYJ (Wk. 1: @Buf.): ArDarius seemed like an obvious starter on this team and possibly their leading receiver until they acquired Jermaine Kearse and signed Jeremy Kerley in the last week. Important note: ArDarius is a better WR than Kerley or Kearse. He unfortunately costs more than the minimum in DraftKings this week ($3,700), but he still likely starts in the slot on a team that will be playing from behind. Kerley was just signed Tuesday, and played under a different coach the last time he was a Jet, so I wouldn't expect him to be able to jump right in as the slot receiver in week 1. ArDarius is a risky dart throw, but one worth considering against a shaky Bills defense that ranked 21st in Football Outsiders' pass defense DVOA last year.
WR Trent Taylor, SF (Wk. 1: vs. Car.): The reason Jeremy Kerley signed with Jets this offseason is that Trent Taylor beat him out for the starting slot WR role in San Francisco. He also led the NCAA in receiving yards last season. Kyle Shanahan's offense employs 3-WR sets less often than most teams, but the Falcons last year still ran 45% of their snaps from 11-personnel (3 WR, 1 RB, 1 TE) with Shanahan as the coordinator. Taylor should be on the field for most of those snaps if not all. He'll cost the minimum in DraftKings and has a chance to surprise against a suspect Carolina secondary.
TE Gerald Everett, LAR (Wk. 1: vs. Ind.): The Colts were one of 7 teams last year to allow 1,000 receiving yards to TEs, and new Rams head coach Sean McVay uses the TE position a lot (10 targets/gm last year in Washington). Everett is a TD dart throw with the upside for more and he will cost the minimum on DraftKings ($2,500). Tyler Higbee is listed as the starter, but Everett should play a bunch.
That's all I've got for this week. Hopefully it helps you win your week one matchups or strike DFS gold. Keep an eye on the injury report throughout the week to avoid any obvious goose eggs in your lineup, but other than that, sit back and enjoy the first meaningful NFL football of the year. It should be a fun few months. Hit me up on twitter if you have any questions or want to yell at me about anything above (@Shawn_Foss), and as always: Good luck, trust your gut, and have fun. It's just a game.