Happy Holidays!
Last week we had a bit of a Christmas present for you with another pretty solid week. You should be close to if not at the top of your pool by now – you're welcome! Here is hoping that the picks just keep on giving for you! Have a happy and safe holiday season everyone!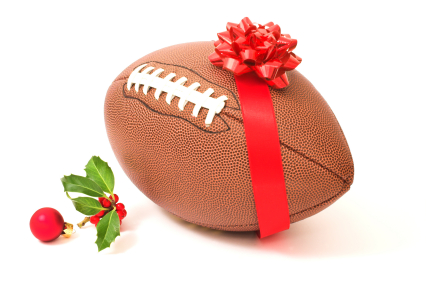 Week 16 – HERE WE GO!!!!!!!!
(HOME TEAM IN ALL CAPS)
16 – KANSAS CITY over Cleveland – The Chiefs haven't lost a game seemingly since VHS was a thing. They host the Browns this week…Merry Christmas Chiefs!
15 – SEATTLE over St Louis – Seattle continues to roll on their way to the post-season. Russell Wilson continues to shine as his backfield continues to crumble.
14 – BUFFALO over Dallas – So many fans will be watching this game just thinking about Super Bowl matchups in the early 90s – Cowboy fans more so since they actually won those games.
13 – TAMPA BAY over Chicago – It's the Lovie Bowl! New Lovie will have the young Bucs hungry to play their hardest against Old Lovie.
12 – OAKLAND over San Diego – The Raiders were originally on a lower line, but add in the emotions of what will now be Charles Woodson's last home game and a Raider win is almost a sure thing…helps that they're playing the Chargers.
11 – MINNESOTA over New York Giants – No O'dell Beckham for the Giants means that they won't have a way to combat the stingy Viking defense.
10 – Carolina over ATLANTA – The thriller in Jersey last week might just be the last chance of seeing a not round number in the L column for the Panthers this season. If you don't think Cam is the MVP, you're doing it wrong.
9 – DETROIT over San Francisco – The Lions offense seems to have returned a bit. Doesn't matter though, they get to play the 49ers anyway.
8 – Pittsburgh over BALTIMORE – Antonio Brown has been called the Jerry Rice of this era…can you argue against that? My BOLD PREDICTION for this week is that ANTONIO BROWN WILL HAVE ANOTHER 200 YARD RECEVING GAME.
7 – ARIZONA over Green Bay – Ladies and gentlemen, introducing David Johnson. Packer fans will probably be sick of hearing his name by the end of the night.
6 – DENVER over Cincinnati – This can't be! Monday Night Football actually has a top matchup of the week? Not two team battling for the top spot…in the draft?? What a concept! The Broncos defense will take advantage of the new Bengals starting QB in this one.
5 – Houston over TENNESSEE – Houston seems to have taken control of the AFC South after a big win in Indy last week. Their reward is a game against the lowly Titans with a backup quarterback.
4 – NEW ORLEANS over Jacksonville – The Saints need to start re-building – a Drew Brees foot injury could very well be the nudge needed to take that step.
3 – NEW YORK JETS over New England – Who knew that this late season matchup of old rivals would actually end up being a good game … with the possibility of the Jets winning?
2 – MIAMI over Indianapolis – Miami has been a big disappointment this year. The only other team that would have the same consideration for disappointment of the year are the Colts. At least the Dolphins get this game at home.
1 – Washington over PHILADELPHIA – The Redskins should pull out a big road win in the race to see who will be the tallest midget in the NFC East.