The injury carousel continues to spin round and round in the NFL, flinging people off without care for their superstar status. This week wasn't quite as bad as week two, but let's take a quick look at the newest injuries to hit the NFL.
Quarterbacks
Ben Roethlisberger (Replacement: Michael Vick) – Roethlisberger went down and you could hear a pin drop in downtown Pittsburg for a few moments. I know the majority Steelers crowd in St. Louis fell silent when Ben was grabbing his knee in the third quarter. Mike Vick will take over the team in the meantime, and just needs to find safe ways to get the ball to the many superstars that make up the supporting cast of the Steelers. Ben has an MCL sprain and bone bruise and the current, not at all official timeline, is looking like it will be 6 weeks before he can return. Hold on to him in redraft leagues if you can afford the bench spot.
Running Backs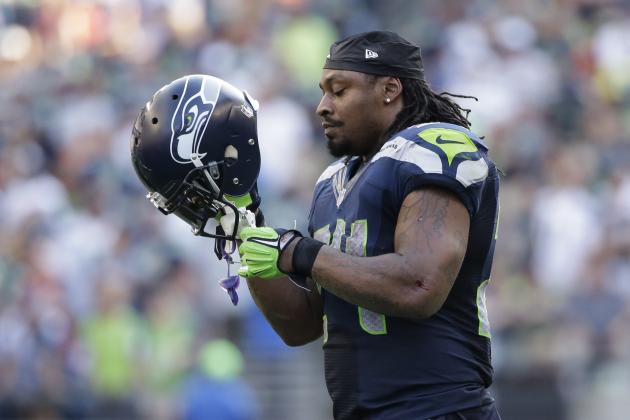 Marshawn Lynch (Replacement: Thomas Rawls) – Lynch left the game after only 5 carries, but let's be honest. The Seahawks practice squad might have been able to beat the Bears this past Sunday. Lynch's status for Monday night's game with the Lions will be updated later in the week (they have an extra day to tell us). If he doesn't go, it looks like undrafted rookie Thomas Rawls will handle the bulk of the work. Rawls had 18 carries for 109 yards against the Bears, and the Lions aren't much better. This is a situation to monitor, as the extent of Lynch's injury is still unclear.
LeSean McCoy (Replacement: Karlos Williams) – McCoy still managed to score a touchdown, but reports out of Buffalo all continue to state that McCoy is not fully healthy. With their offense rolling, this is shaping up to be the week that they sit down McCoy so he can finally get as close to 100% as possible. Karlos Williams has been great in his place, averaging a whopping 7.8 yards per rush attempt over the first three games and scoring a TD in each of the three games so far this year. Williams is the clear replacement and can be slotted in as a starter on your team right away, as long as McCoy is out.
Chris Ivory (Replacement: Bilal Powell) – Ivory suited up for Sunday's game, but didn't see any action. His groin injury is not supposed to keep him out of the Week 4 matchup with the Dolphins, but him being a no-show in week 3 has me skeptical about starting him in week 4. Bilal Powell is a plodding replacement who hasn't seen the end-zone yet, so leave him towards the bottom of your waiver list if you need to pick up a replacement RB this week. Ivory will probably be a game time decision – just remember that his game time is 3.5 hours earlier than normal!
Demarco Murray (Replacement: Ryan Mathews) – Murray surprised a lot of people by being inactive for Sunday's game, and it almost seems like it helped the Eagles. Ryan Mathews finally got their running game going, and is clearly a better fit in their system, compared to the workload dependent Murray. It's hard to say where this situation is headed. If Chip Kelly is smart, he will probably wind up splitting the carries between Murray and Mathews in an attempt to take some of the pressure away from Murray. If Murray is out again, Mathews is a high-end RB2. If they both play, they are probably both more like a higher end RB3.
Wide Receivers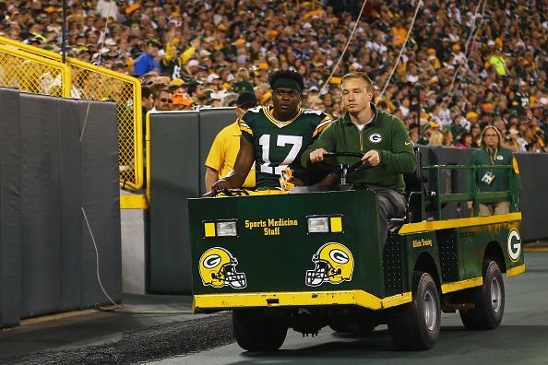 Davante Adams (Replacements: James Jones, Ty Montgomery) – Adams gave it a go on Monday night and only lasted for two targets on the first drive before exiting the game. Ty Montgomery and James Jones both caught a TD in the game, and it doesn't look like there is a reason to keep pushing Davante Adams if he is injured. The Packers would be making a mistake if they kept forcing Adams out there with two other players having so much success. Do not start Adams this week, even if he's a go!
Sammy Watkins (Replacement: Percy Harvin) – Watkins has been hobbled with injury, but it hasn't slowed the Bills down one bit. Watkins suffered a calf strain, and Coach Ryan has stated he might miss week 4's game. Harvin has been productive and startable every week, and is still only owned in 55% of Yahoo leagues! Watkins owners shouldn't panic yet, he's had a history of injuries leaving him a bit banged up, but he should be back to himself in a week or two. Watkins is a dynamic receiver and will return to form later this year, but for now, look to Percy Harvin for your production from the Bills WR's.
Tight Ends
Andrew Quarless (Replacement: Richard Rodgers) – Quarless got his first two catches of the season on Monday night, and then promptly exited the game with a sprained MCL. Quarless will be out 4-6 weeks and was never a fantasy option in the first place, and neither is Rodgers. Go look elsewhere for tight end help.
Vernon Davis (Replacement: Vance McDonald) – Davis didn't play much in the blowout loss against the Cardinals, but suffered a knee injury all the same. This isn't likely a long-term injury, but it's also not likely that he'll be fantasy relevant any time soon. The 49ers are receiving favorable comparisons to dumpster fires and toxic waste dumps. This injury shouldn't affect your team unless you're in the deepest possible league.