The injury bug continues to sting the NFL. Ben Roethlisberger and Marshawn Lynch highlight the week 3 injury report. We are already starting to see the waiver wire slim as sleepers are at a premium by this point in the season. Streaming plays is still important so continue to look for favorable matchups on a weekly basis.
Quarterbacks
Tyrod Taylor, BUF – The Buffalo Bills were largely ignored from a fantasy stand point heading into this season. You'll notice a heavy contingent of Bills players in this week's waiver picks. It all starts with quarterback and Tyrod Taylor has been impressive through 3 weeks. It really is hard to believe he is only owned in 38% of leagues. The caution surrounding him is clearly over as he has been let loose to make 59 attempts in his last two games. He's out scoring guys like Andrew Luck, Eli Manning and Matt Ryan. There really is no reason for fantasy owners not to snatch him up this week.
Derek Carr, OAK – Oakland is 2-1 on the season and while that means little to fantasy owners it should be noted that Derek Carr has had 2 great fantasy days in those victories. Unlike Tyrod Taylor I don't see Carr being a guy that you'll roll with the rest of the season. What I do like about Derek Carr heading into week 4 is his matchup with the Chicago Bears. The Bears are 0-3 with little hope of being relevant and have questionable corner backs. Carr is a great streaming option this week and maybe a guy you want to stash if you drafted guys like Matt Stafford or Colin Kaepernick.
Running Backs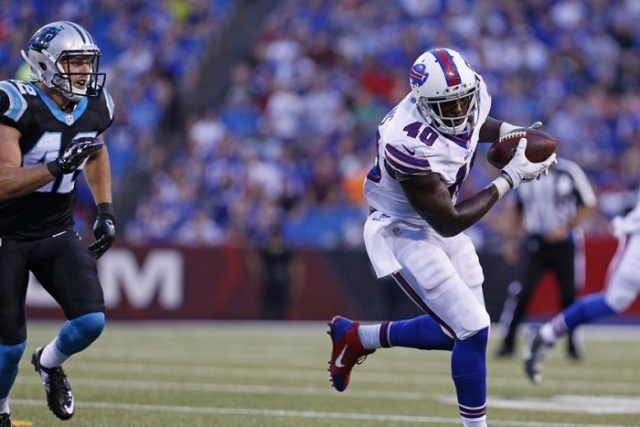 Karlos Williams, BUF – LeSean McCoy owners were feeling the frustration before news came out that Shady might grab some pine to get his hamstring healed in week 4. Karlos Williams has a touchdown in each of the first 3 games of the season. Last week he made the most of his 12 attempts with 110 yards. The increased roll plus the news that Shady may be used sparingly makes Williams a no brainer pick up this week. He is only owned in 25% of leagues.
Thomas Rawls, SEA – One man's loss is another man's gain. Thomas Rawls stepped up when Marshawn Lynch left the game with a hamstring injury. It's a wait-and-see situation with Lynch, but if you own Marshawn or could use a plug and play RB in week 4 then Rawls is easy pickings. His matchup with Detroit is favorable and he has clearly beaten out Fred Jackson.
Alfred Blue, HOU – The Texans must have finally realized their quarterback situation is futile. Alfred Blue was given the rock 31 times in week 3 as Houston looked to get some sort of spark going on offense. Blue did not disappoint with 139 yards and a touchdown. Arian Foster will be back soon, but Blue's performance makes him worth a pickup in case Foster takes another week healing his groin.
Wide Receivers
Rishard Matthews, MIA – It's ok if you didn't hear about Rishard Matthews before the season started. He has come out of nowhere with 262 yards and 3 touchdowns on this young season. He saw 10 targets in week 3 and is clearly going to continue to be involved in the Miami offense. We aren't talking about an Odell Beckham here, but there are plenty of WR2's and WR3's that have disappointed to this point. Matthews is available in 77% of leagues.
Marvin Jones, CIN – Heading into this season I was way up on Marvin Jones. Week 1 was unsettling but Jones has proven that going with your gut is sometimes more important than one week's worth of stats. In weeks 2 and 3 his role has increased with 13 targets. More important from a fantasy stand point are his two consecutive weeks finding the end zone. He is the #2 receiver in Cincinnati at this point and a strong WR3 option moving forward.
Ted Ginn Jr., CAR – The Panthers have a serious lack of targets this season. Ted Ginn Jr. is the wide receiver that appears to be the best target behind Greg Olson. He has a promising 22 targets through 3 weeks and if that completion percentage can come up he will be dangerous. I like him this week against the Tampa Bay defense and you can stash him on the bench to play match ups as the season goes on.
Tight Ends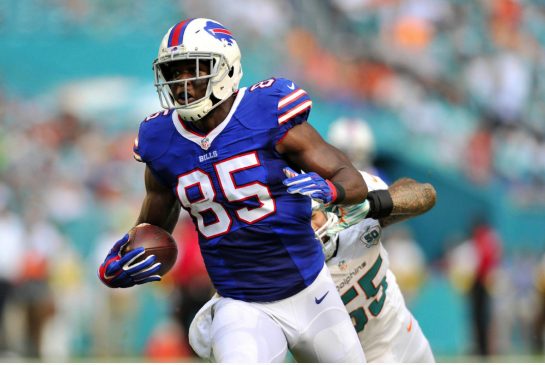 Charles Clay, BUF – The tight end position is one where it's rare to find lightening in a bottle. Charles Clay is certainly not going to be a game changer, at least not at this point. I like Clay because the Bills are a hot team right now and he is playing a role. He has two consecutive games with a touchdown and a good matchup against the Giants in week 4.
Kickers
Chandler Catanzaro, ARI – The Cardinals have a very good defense to this point this season. That has hurt Chandler Catanzaro to this point as he only has 2 field goals on the year. I still like having kickers on an offense that moves the ball over a guy like Robbie Gould, who is accurate but was blanked in week 3. If you are streaming kickers Catanzaro is my pick this week as the Rams present the toughest defensive match up Arizona has seen all season
Defense/Special Teams
Indianapolis Colts – Week 4 is a rough week if you are streaming your defenses. Indianapolis is best available mostly due to a favorable match up with the Jaguars. The Colts have a tough start to the season defensively, but they have had some pretty good talent going against them too. They have a lot to prove and a coach's job in their hands.