It is no wonder the NFL is the most popular sport in America. Week 1 is fresh in the books and the drama and excitement is still a buzz around the water cooler. Seattle goes down in St. Louis where we are never surprised to see a shootout, Indianapolis was the first casualty of the stout Rex Ryan coached Bills Defense and Peyton Manning has to be wondering "why he came back one more year" (read to the jingle of his Nationwide commercials). Fantasy owners are already feeling the pain too after injuries brought down players like T.Y. Hilton, Dez Bryant, Andre Ellington and Ladarius Green. Fear not fellow fantasy family! The early weeks of the football season bring with them a wealth of waiver wire potential.
Quarterbacks
Tyrod Taylor, BUF – The Bills shocked the heartland with a week 1 win over the visiting Colts. At the helm was first year starter Tyrod Taylor. He went 14-19 for 195 yards and a touchdown while adding 41 yards on the ground. The Bills were obviously cautious with Taylor only having 19 passing attempts; however he showed confidence with a 51 yard bomb to Percy Harvin. Taylor is only owned in 10% of leagues. Next week he has a favorable match-up against a questionable New England secondary. His dual threat talents reduce the risk associated with his lack of passing attempts.
Alex Smith, KC – Alex Smith is only owned in 20% of leagues right now. He completed 22 of 33 passes for 243 yards with 3 touchdowns in week 1. Alex Smith's value is increased this year with an upgrade in weapons like Jeremy Maclin and the return of Travis Kelce. Kelce was on full display in week 1 with huge yards and 2 of the 3 Smith touchdown passes. Smith has a good week 2 match-up hosting Denver on Thursday night. Thursday games tend to be sloppy; however Alex Smith excels at protecting the football so he offers limited risk.
Other players to consider are Andy Dalton (owned in 26%) who, like Alex Smith, has a big Tight End target in Tyler Eifert. Nick Foles (owned in 13%) with an average of 11 yards per pass in week 1 and favorable match-ups against Washington, Pittsburgh and Green Bay in 3 of his next 4 games.
Running Backs
DeAngelo Williams, PIT – The Pittsburgh at New England season opener feels like it was a long time ago after the excitement of Sunday. One of the standouts I remember from that game was DeAngelo Williams. He gained 127 yards on 21 attempts and looked very fresh with surprising bursts of speed. Andre Ellington owners should look to Williams for a week 2 start against San Francisco. It'll be his last game with any value as LeVeon Bell is due back in week 3, but featured backs are limited in the NFL these days. Williams is only owned in 37% of leagues.
Chris Johnson, ARI – Andre Ellington didn't even make it through one game before making his fantasy owners pay the price. While it appears to be good news that he isn't lost for the season his owners will be looking for a replacement for a few weeks. Owners don't have to look far as Chris Johnson will be the guy stepping in. Bruce Arians is likely to lean on the veteran over the rookie David Johnson. Chris Johnson is long removed from his CJ2K season but he does have a favorable match-up against Chicago in week 2.
Other players to consider Bishop Sankey (owned in 47%) because of his ownership percentage he wasn't a featured waiver pick up but if he is available in your league you should jump on that immediately. Danny Woodhead (owned in 50%) is another guy who doesn't make the cut as a waiver feature but should be owned, proving to be the touchdown vulture in week 1.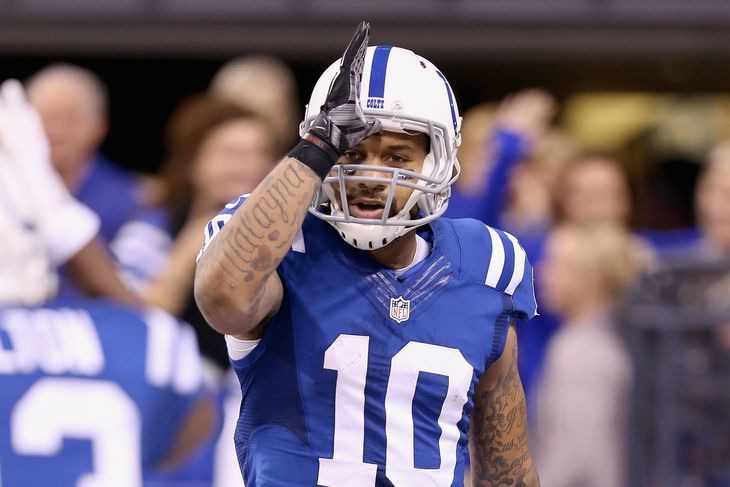 Wide Receivers
Donte Moncrief, IND – The Colts got some positive news today regarding T.Y. Hilton however he is still likely to miss at least week 2. Moncrief proved to be a highly targeted option for Andrew Luck in the week 1 disappointment. He had 6 receptions on 11 targets for 46 yards with a touchdown. The week 2 match-up is tough against the Jets secondary but the Colts offense is designed to be high flying. The fact that Moncrief had so many targets points to a trust between him and Luck. In week 2 Moncrief will have more opportunities to make an impact. He is only owned in 11% of leagues.
James Jones, GB – When Jordy Nelson went down for the season there were question marks regarding who would step up. The late James Jones signing only added intrigue but week 1 answered any questions as to who would complete the Packers receiving core. Jones caught 2 touchdowns against the Bears in week one and caught all of his four targets for 51 yards. I expect to see Cobb and Adams seeing a bulk of the targets, but Jones proved his worth in the red zone and that simply cannot be ignored in fantasy formats. Aaron Rodgers and Green Bay are also known to spread the ball around so Jones solidifying that WR3 role on the team makes him a legit WR3 in fantasy too. He is only owned in 31% of leagues.
Terrance Williams, DAL – Dez Bryant is lost for 4-6 weeks and Terrance Williams will step up as the #1 in Dallas. In week 1 Williams saw 8 targets coming down with 5 of them for 60 yards. He had a chance at a TD too but dropped it. Williams is my favorite WR pick up this week simply because of the role he is moving into. He is owned in 57% of leagues so if he is available you need to act fast prioritize him high. Terrance Williams and Dallas has a very friendly next four weeks as they face Philadelphia, Atlanta, New Orleans and New England; All with suspect pass defenses.
Other players to keep an eye on are Percy Harvin (owned in 41%) who caught all 5 of his targets in week 1. Tyler Lockett (owned in 30%) has more to prove before being used regularly but his special teams play this week makes him a good pick up for teams looking to add depth early in the season.

Tight Ends
Heath Miller, PIT – Play-making tight ends are very limited but week 1 proved just how valuable they can be in fantasy football. See Travis Kelce, Tyler Eifert or Rob Gronkowski for proof. If you are finding yourself in a disappointing jam heading into week 2 look at Heath Miller. He caught 8 of his 11 targets in week 1 for 84 yards. Miller was a chain mover for Roethlisberger and will see an increased roll while Martavis Bryant finishes his suspension. Miller is only owned in 49% of leagues.
Other players to look for are Ladarius Green (owned in 20%). If you have the room on your roster you might want to make this move as he looked great in week 1 with 5 receptions for 74 yards and touchdown.
Kickers
Brandon McManus, DEN – It is tough to go wrong with a Denver kicker in the thin air. McManus nailed two 50+ yarders in week 1 on top of a 40+ and 30+. A good start for a guy with accuracy concerns. Next week Denver leaves the thin air for KC on Thursday night. I expect to see the Denver offense bounce back and move the ball, but Thursday night games are interesting as shorter prep time can often lead to stalled drives. Good for kickers. At the very least you're picking up a guy who has 7 more games in Denver. He is only owned in 19% of leagues.
Josh Brown, NYG – Fantasy strategy allows for the kicker position to often time be shifted by match up. If you follow such strategy than Josh Brown is your guy to pick up this week. He was perfect in week 1 that included 40+ and 50+ field goals. His upcoming schedule is favorable against the weak defenses of Atlanta and Washington. He is owned in 14% of leagues.
Defense/Special Teams
Baltimore Ravens – The Ravens defense kept Peyton Manning and the Bronco's out of the end zone all day. They pressured Manning all day sacking him 4 times and disrupting 6 more pass attempts. Losing Suggs is going to hurt a little bit but as a unit the Ravens looked good and should manage to overcome the loss. They have a very favorable week 2 against Oakland with favorable match-ups in weeks 3 and 4 against Cincinnati and Cleveland too.